The Apr. 19, 2023 meeting of the Chicago City Council was the last for 12 of its members. Their replacements will be sworn in as aldermen on May 15.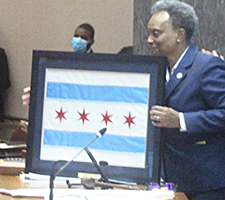 Mayor Lightfoot displays her gift, a framed city flag.
Photo by Dave Glowacz.
About four hours into the Apr. 19 meeting, Ald. Michelle Harris, who chairs the Committee on Committees and Rules, announced that she'd devised a parting gift for each of her outgoing colleagues: a framed Chicago flag, affixed to which was the metal nameplate that formerly marked the council chamber seat in which the alderman sat.
Harris also gifted a framed flag to outgoing Mayor Lori Lightfoot.
For the next hour, aldermen stood to heap praise on their departing coworkers. Slights were forgiven, hatchets were buried, and tears were shed.
Inside Chicago Government's Dave Glowacz photographed some of this cadre's final moments together. Find the photos below.
Article continues below: